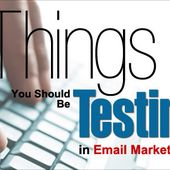 Critical Email Marketing Tests
Improve email response rates by routinely conducting AB testing Split your email list randomly to compare one list results with the other. No "Before and After Tests", and therefore it is very critical to run all versions of test at the same time including splitting your email list and sending out all creative mailer versions (A/B Testing).
http://blogs4bytes.wordpress.com/2012/11/19/critical-email-marketing-tests/
Experts have reported that an average 40% email budget is wasted by not considering or deploying mailer testing for effective goal conversions and therefore cultivating the culture of testing for your mailer campaigns.
The following post is based on the eBook report titled "Top 7 Inspirational Email Tests eBook" by Hubspot.com and the role of Blogs4Bytes.WordPress.Com is to bring in highlight the key essentials.